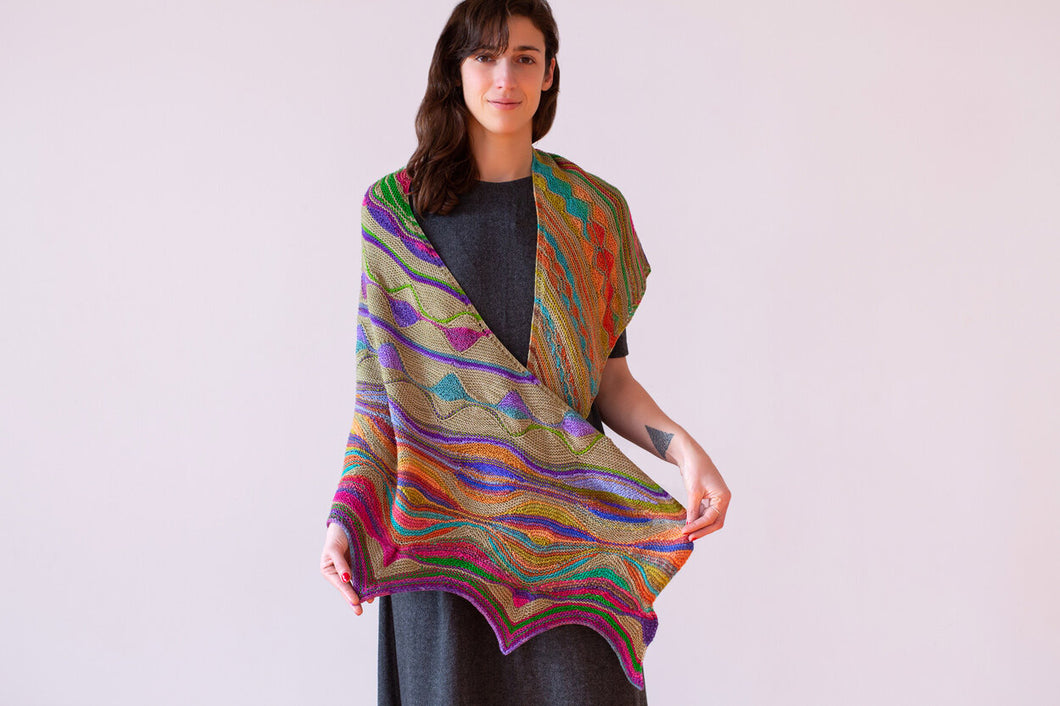 Positive Vibrations Pattern by Marin Melchior
Regular price $95.00 Sale
Designed by Marin Melchior MarinJa Knits
26 stitches and 52 rows = 4 inches
in unblocked garter
743 - 984 yards (679 - 900 m)
various, please see NOTES. - LARGEST is 63" long x 36" at widest end
KAL on facebook: ON-GOING
POSITIVE VIBRATIONS SHAWL - KAL with MarinJa Knits
answer the ADMIT questions, please or do not expect to be admitted, thank you.
Yarn Choice:
The shawls are knit in fingering weight yarn. There are Several versions. Two that use almost every inch of your two skeins and are a little shorter/smaller. And 2 that use 3 skeins, about 80% of two of them and 100% of your third. There are many other options and choices; including using stash yarns, or "scraps/ends". The end section of the piece is designed to allow you to end where you need to, or, with more yarn, to make the shawl larger.
It is easy to get lost or off by a stitch (or 2) in this pattern. You can 're-set' at the garter row portions between the short row sections. The pattern does work, but it can be frustrating to be off. You need to decide if you want to keep knitting or if you want to pull back and fix it. Being off minimally should not impact the look of the finished piece.
urth yarns
.Three Colors/Yarns.
Fingering 100% Merino 435 yards / 100 grams
2 Uneek Colorways #3023 & #3024 (200g/used160g)
1 Harvest Colorway Pistachio (100g/used most)